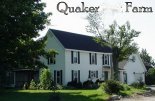 Quaker Farm Home
Contact & Visitor Info
---
Quaker Bee Honey
Free Range Eggs
Quaker Soaps
---
Wool & Fiber
---
Grass fed Lamb & Mutton
---
Buff Orpington
Chickens

Border Leister & Cotswold
Sheep

Dairy Goats


---
Collie Dogs
Sustainable Living Workshops
---
Quaker Anne's
Children's Stories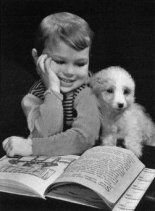 How Bees Make Honey

A Chicken is Born

A Haircut for Sheep

A Baby Goat is Born

Lassie Saves a Lamb

A Baby Horse is Born























































































In all things give thanks; for this is the will of God in Christ Jesus concerning you all.
1 Thessalonians 5:18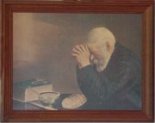 Quaker Hill Farm
Harrisville, Michigan
quakerfarm.com
---
Creating a Well Stocked
Kitchen Pantry
---


There are many reasons to create and maintain a well stocked kitchen pantry. For our family, emergency preparedness is a real consideration especially in the winter when storms and heavy snowfall cause power outages and limited mobility - sometimes for days. Another good reason is economy and availability. We live in an area where there are no "convenient" stores and the tiny town markets located many miles away offer little choice for wholesome food products. With a well stocked pantry, you seldom find yourself having to run out for just one or two "quick" items. Those runs are seldom quick and certainly not economical considering ever increasing fuel costs if nothing else. But the biggest advantage of a well planned home pantry is the quality of the food you can store.

A good pantry should be a resource of items that are nutritiously produced and preserved. First, consider canning or freezing your own fruits, vegetables, meats, sauses, jellies, jams and other preserves. Even if you don't grow your own, there are surely farmers markets or local growers that you can find as reliable resources. Second, make purchases from your local natural foods co-op. Organic products are easily found there in a trust worthy variety that certainly out does any "super-mart". Remember, real food value can not be measured in cost alone - one absolutely must consider the nutritional content as well as the natural, chemical free production of the product. Cheap food costs far, far more in the long run - don't compromise the health of your family with cheap, chemically laden foods. Invest in the health of your home with wholesome, nutrient rich foods.

It is also a good idea to research alternative methods for cleaning products. Many of the items listed in the pantry recommendations below can be used (alone or in combination) in place of commercial cleaning products.

Medicinal preparations are another consideration. Herbal tinctures, cough remedies and many more holistic preparations can be created with a well stocked pantry.

Thoughtful planning in advance is the key to creating a pantry that will serve you well in many healthful ways. The following is just a recommendation to get you off to a good start.
---
REFRIGERATOR

---

Eggs
Butter (no margarine!)
Raw whole milk
Cream
Cream cheese
Sour cream
Parmesan cheese
Mozzarella
Mild cheese
Sharp cheese
Romano cheese
Mayonnaise
Dijon mustard
Yellow mustard
Ketchup
Worcestershire sauce
Steak sauce
Horseradish
Hot pepper pickles
Pickle relish
Assorted pickles
Green olives
Ripe olives
Salsa
Jellies or jams
Apple butter



FREEZER

---

Ice
Vegetables
Ground beef
Whole chicken
Pork chops
Pork roast
Link and/or bulk sausage
Bacon
Flour tortillas
Corn tortillas
Pierogies
Stuffed pasta
Beef stock
Chicken stock
Fish stock
Walnuts
Pecans
Almonds
Ice cream or frozen yogurt
Sherbert
Frozen fruits


PRODUCE

---

White potatoes
Sweet potatoes
Onions
Garlic
Sweet peppers
Hot peppers
Fresh mushrooms
Dried mushrooms
Lettuce
Cucumbers
Tomatoes
Carrots
Celery
Apples
Oranges
Lemons
Limes
Parsley
Bananas
DRY GOODS

---

Unbleached white flour
Whole wheat flour (store in freezer for longer shelf life)
Wheat germ
Bran Flakes
Spelt
Cornmeal
Granulated raw sugar
Confectioner's sugar
Brown sugar
Baking soda
Baking powder
Yeast (Keep in freezer for longer shelf life)
Cornstarch
Carob
Unsweetened cocoa
Unsweetened chocolate
Semi or bitter sweet chocolate
German chocolate
Tapioca
Vegetable shortening
Old Fashioned Oatmeal
Quick Oatmeal
Cream of Wheat
Wheet-a-bix
Wheateena
Maltex
Crackers
Whole grain Pastas:
Spaghetti
Linguini
Fettuccini
Elbows
Shells
Angel hair
Lasagna
Egg noodles
Long grain rice
Brown rice
Wild rice
Barley
Lentils
Great Northern beans
Whole peas
Split peas
Kidney beans
Onion soup mix
Dried corn

CANNED / BOTTLED

---

Whole tomatoes
Crushed tomatoes
Tomato sauce
Tomato puree
Tomato paste
Beef broth
Chicken broth
Condensed cream of mushroom soup
Canned fruits
Pie fillings
Worcestershire sauce
Soy sauce
Dijon mustard
Tuna
Salmon
Sardines
Anchovies
Anchovy paste
Green beans
Whole kernel corn
Creamed corn
Beets
Great northern beans
Chick peas
Kidney beans
Evaporated milk
Peanut butter
Assorted pickles
Olives
Salsa
Light corn syrup
Dark corn syrup
Pure maple syrup
Raw Honey
Pure vanilla
Almond flavoring
Bouillon
Hot sauce
Grated cheese

VINEGAR / OIL

---

Extra-Virgin olive oil
Corn oil
Canola oil
Coconut oil
Almond oil
Sesame oil
Red wine vinegar
Balsamic vinegar
White distilled vinegar
Cider vinegar


---

SPIRITS

---

Beer - Ale & Stout
Vodka
Dry red wine
Dry white wine
Port wine
Vermouth
Brandy or Cognac
Dry sherry
Gin
Rum
Assorted liqueurs
DRIED HERBS

---

Parsley
Sage
Rosemary
Thyme
Oregano
Basil
Bay leaves
Marjoram
Cilantro
Chives
Savory
Tarragon
Dill weed
Dill seed
Onion powder
Minced onions
Garlic powder
Minced garlic


---

Note: However pituresque it might be, don't display spices on a sunny kitchen counter. Store herbs and spices in a dark area. This helps to preserve them longer. Though dried spices and herbs start to lose flavor after 6 months, they do not spoil. Rather than discard older spices, simply add a bit more to a recipe if needed.

SPICES

---

Sea salt
Peppercorns
Coarse salt
Ground cinnamon
Cinnamon sticks
Whole cloves
Ground cloves
Nutmeg
Allspice
Turmeric

Dry mustard
Mustard seed
Cayenne pepper
Ground sweet paprika Ground mace
Pickling spice
Ground ginger
Ground cumin
Celery seed
Caraway seeds
Fennel seeds

Would you like to learn about cooking with natural foods?
Our Simple Living Skills Workshops provide a wonderful opportunity to learn skills such as cooking with natural whole foods, cheese making, bread making, meat processing, soap making, fiber craft, spinning, fundamental farm carpentry, handyman basics and much more. Click here for our 2006 - 2007 class schedule and registration information.


---
We hope you enjoy our Internet site and welcome you to visit our Quaker Farm Shoppe where we look forward to serving you!


Closed 1st Days (Sundays).





"The Lord bless thee and keep thee...."
- Numbers 6:24

Return to Quaker Anne's Home Page
Return to Quaker Hill Farm
Return to Quaker Anne's Christian Spiritual Essays