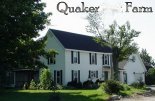 Quaker Farm Home
Contact Information
Guest Speaker Info
---
Quaker Farm Rough Collie Dogs
Watch a fun video of Quaker Farm Collie puppies playing.


Be sure to turn your speakers on for sound.

Animal Planet filmed our beautiful and talented rough Collie dogs at Quaker Farm for a show on the Discovery Network called DOGS 101. See photo essay.


Collie puppies are available! Visit the puppy nursery page at Crown Thistle Collies.

If you are interested in submitting a deposit for a rough Collie puppy please contact us by phone, 989-220-1778. We will contact you as soon as we can. Please understand that we are not online very often. So, we try and return telephone calls as quickly as possible, but it may be a few days. We appreciate your patience.

In partnership with Crown Thistle Collies, and in accordance with the policies as disclosed on the Crown Thistle Collie web site, we raise AKC registered, standard rough Collie dogs, and we occasionally have Rough Collie puppies for sale. Our bloodlines feature stable minded, high quality Championship European and American dogs. Selectively bred for temperament for many, many generations, our dogs are unique for their easy, willing temperaments, high intelligence. Our pups are often 50% European. We feel that genetic diversity has a profoundly positive impact on the health of Collies and is therefore a very important part of our normal eyed breeding program. Quaker Farm Collies are breath takingly beautiful, classically stylish, easy to train, not prone to roaming and remarkably intelligent.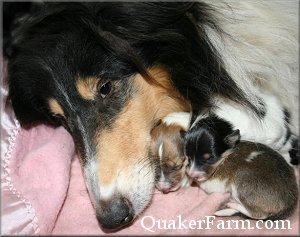 Our breeding program serves to preserve our carefully developed bloodlines of highly intelligent, trainable Collie dogs - with exquisite rough coats, providing us with the next generation of working and companion Collies. Thus, we only have a limited number of pups available each year which provides a unique opportunity to families looking for a very special Collie dog.

Pups have had their shots, been dewormed, socialized and training started.


Stories from Quaker Farm available at Amazon.com for KINDLE
General Information About Our Collies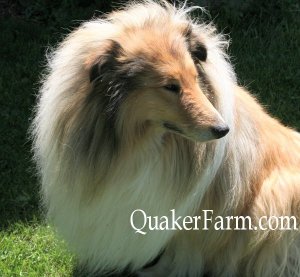 Quaker Farm Collies have exceptionally textured, thick, unusually beautiful rough coats in colors of Sable & white, Tri-color and sometimes White and Blue Merle. We do not raise smooth Collies. To preserve the extraordinary beauty of the rough coats of the Quaker Farm line, (exceptional for hand spinning!), we do not breed our rough coated Collies to smooth Collie dogs.

Quaker Farm Collies are exceptional working dogs and make wonderful family companions as well.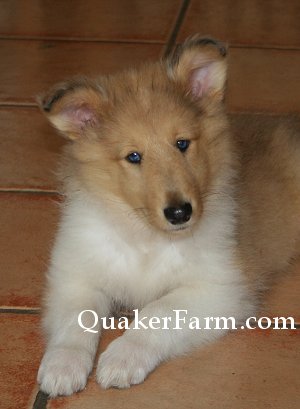 People often ask us if a Collie is a good breed of dog with children. We feel that a well bred Collie from a reputable breeder is a great dog for children.

The type of Collie dogs we breed here at Quaker Farm have outstanding temperaments and are very devoted to their families without being overly protective or territorial. Our Collie pups and adult dogs get along extremely well with other dogs and we raise them to be very, very social. We also start training the pups before they go home to their forever families.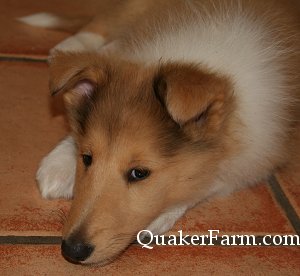 Our Collies are calm and gentle and sold as indoor dogs only.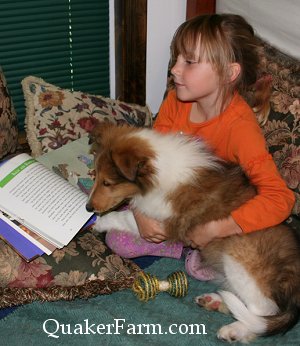 Many of our Collies are placed as working companions or emotional support dogs and due to their calm, focused and intelligent nature, Quaker Farm Collies are also very popular and work extremely well as reading dogs for children.

If you would like a faithful family friend with the classic charm and loyalty of the legendary Lassie, contact Quaker Farm for information about the Collie puppies we may have for sale. Our prices are reasonable. Our puppies are sold to carefully screened homes only - we want to make sure all puppies are placed with wonderful families.

Please note: We do not artificially alter the looks of our Collie puppies in any way. We prefer to offer our puppies the comfort of their natural appearance. Therefore, our pups ears are either naturally tipped or naturally pricked, we never brace or glue their ears for cosmetic purposes. We enjoy their natural look, and we think the puppies like it best too!




Watch a video of 3 week old Crown Thistle rough Collie puppies at Quaker Farm

Be sure to turn your speakers on for sound.



---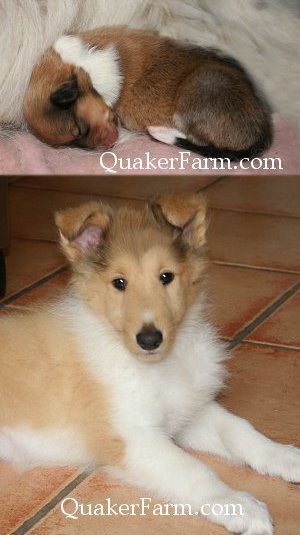 It is always a joy to meet the kind people who have waited patiently to adopt one of our Collie puppies. And the wait is certainly worth it, our pups are exceptional as many people know. One recent family sent this update; "Tucker made the ride home with no problems at all. He is delightful, sweet, calm and so loving. He has adapted easily and amazingly quickly. Thank you so very much for such a wonderful collie puppy!"

We are grateful to work with such remarkable families who are willing to be thoughtfully considerate of our busy and sometimes unpredictable farm schedule! Our customers are some of the finest people we have ever met. Their kindness and patience assures us that our pups will be happy and well cared for in their new forever homes. And what a joy it is to watch children and families have such fun with our baby goats and lambs when they arrive to meet their new collie puppy. We even try to have warm bottles available for feeding baby goats and one can just imagine all of the pictures that are taken! Such a joy for us to be a part of!

If you are interested in purchasing a rough collie puppy, we have a few pups available. Our puppy application, prices and policies can be viewed online at our Collie dog web site, Crown Thistle Collies.

In making a deposit for a puppy, either online or by mail, you agree to our Collie puppy purchase policies.

Due to the popularity of our Collie dogs, we encourage you to contact us early for the best availability.

We do not offer stud service.

Quaker Farm Collies are sold with a spay/neuter contract. We do not sell dogs for breeding - please don't ask.


---
Dog Training Classes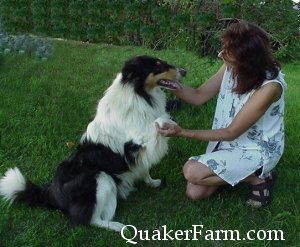 We offer all-breed puppy kindergarten and adult dog training classes in the Spring, Summer and Fall and have a limited enrollment. Private sessions available.

We limit session enrollments and schedule classes in pup size appropriate sessions so little dogs may learn with little classmates and larger breed dogs may learn with larger classmates.



---
Collie puppy fun at Quaker Farm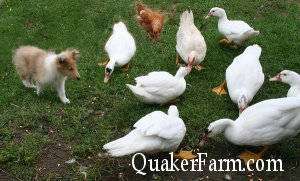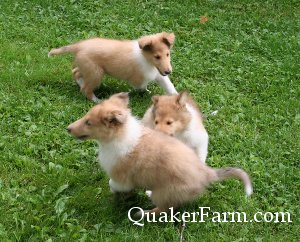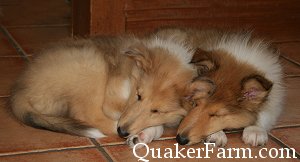 ---
NEWS
Introducing "Scotty of Quaker Farm"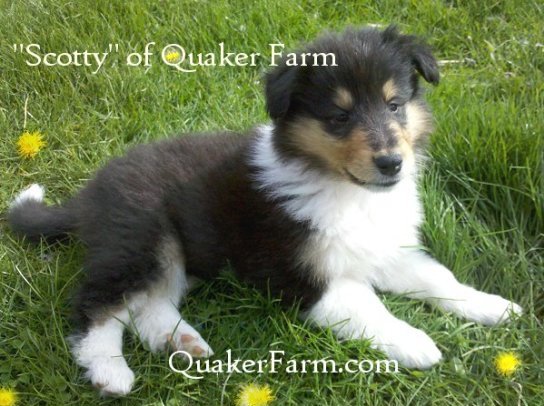 It has been many years since we have introduced an American rough Collie sire into our breeding program. But, we really needed a tri-color male to breed to our blue merle females, as well as our sable merle females. After carefully researching our options, we decided to make an investment in an American Collie puppy dog. We have named him "Scotty" and look forward to working with Scotty over the next year as we evaluate his potential, his personality and temperament, and level of intelligence. It is a lengthy process, but we must be sure that Scotty complements our carefully developed lines and the high degree of aptitude of our dogs. So far, he has been really fun to work with and train. We brought Scotty home to Quaker Farm when he was 7 weeks old, and settled him into our gentle, but formative, puppy imprint training program that very day.

Scotty is already proving himself to be highly intelligent and willing - with consistent, lovingly firm direction - and we are very pleased with his progress so far!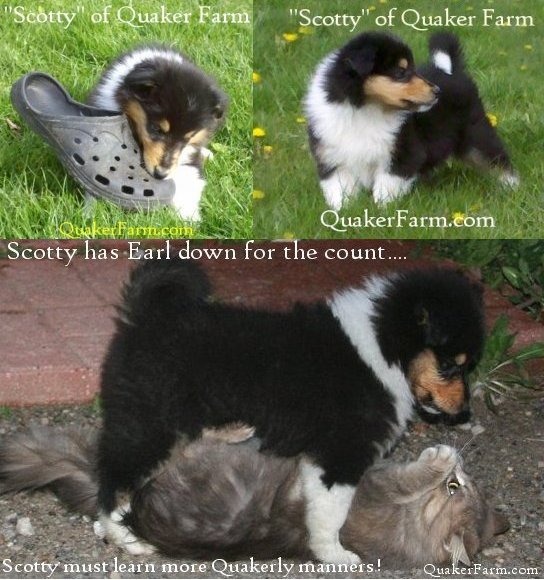 ---
We think natural food is better than commercially processed dog food.
Quaker Farm Collies think so.
You should too.


Just ask Laddie and Cricket ...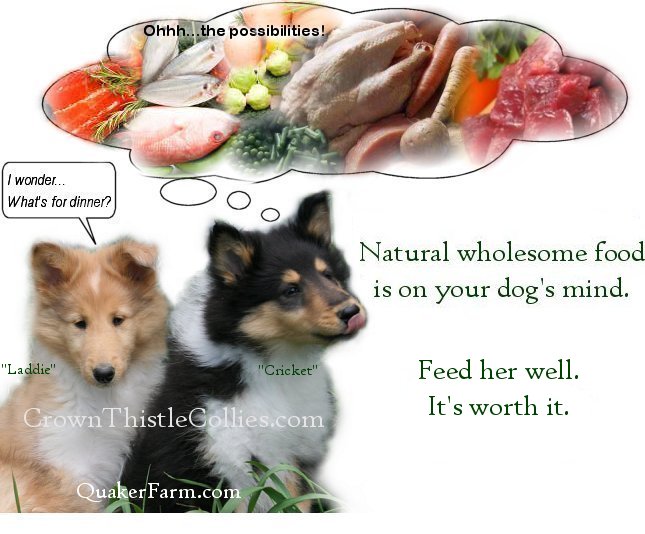 "The Lord bless thee and keep thee...."
- Numbers 6:24